March 22nd, 2006
I went to Las Vegas with the Maverick Authors (and a friend) this past weekend. Much fun was had!
Here are a few pictures: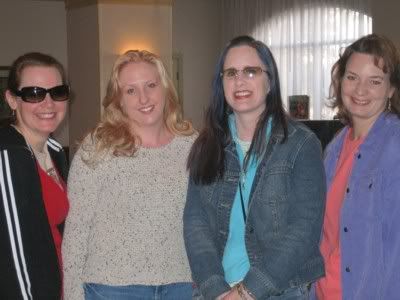 Here is Lauren Dane, Moi, Megan Hart and Julie, (a friend). Did you know Megan Hart just sold a THREE BOOK DEAL to Harlequin Spice!! We are so excited for her!
Here's me and Megan.
Megan and Lauren making their trademark "devil horns".
Did I mention that we saw Thunder From Down Under while we there? No? Oh, baby…gorgeous Aussie men flaunting themselves in front a bunch of screaming, crazy women. It was something to behold. If you're ever in Vegas, I recommend going to see the show.