November 14th, 2006
I'm back from ten days in Europe!!! It's so good to be home. Crawling into my warm, soft bed last night surrounded by my purring kitties after a very, very long journey was better than sex. I'm sick (of course). I have a sore throat, fever and a sinus infection from a combo of cold weather, not enough sleep and a delicious yet not very healthy diet.
Kids, do not attempt 12 hours total in an airplane with a sinus infection. It is a.) very, very, very, very uncomfortable and b.) dangerous because of the pressure changes. I'm just glad I'm home.
Here are some pictures from our day in Gay Paris!!!
We got up at O dark hundred took the Talys (High-speed train) from Brussles to Paris. We arrived at the Gare du Nord where we hopped onto the metro that let us out on the Rue de Rivoli, which is a street near the Louve with a lot of shops and stuff. When we reached the Rue de Rivioli we spied a brassier on a corner and ducked in for a petit dejeuner aka breakfast. That's my husband and I enjoying hot chocolate, croissant and some cereal.
L (our friend who came with us) and my husband enjoying same.
After that we walked down the Rue de Rivoli to the Louve, walked around a bit sightseeing, then caught a bus that goes around to all the major sights of Paris. You can get on and off as you choose, so it was a good deal for us since we only had one day here. We went to Notre Dame and then to……
The Eiffel Tower from the museum plaza across the street, taken from the top of the bus and with a tad of L's hair.
Me and my husband at the foot of the Eiffel Tower.
L got this shot of us kissing at the base.
Taken from the second tier of the Eiffel Tower. It was very hazy that day (and cold!!!) so we didn't go all way to the top. You couldn't see anything from up there because of the crappy conditions.
After that we hopped back on the bus and went to the Place de la Concorde, the Champs-Elysees and the Arc du Triomphe. The traffic circles around the Place de la Concorde and Arc du Triomphe are enough to give a person a heart attack, by the way.
Then we hopped out somewhere near L'Opera and got some lunch in a very smoky cafe. The smoke over there is incredible. We're so spoiled with the no smoking laws here in the US. I felt like I was smoking a pack a day. I'd forgotten about that little bit of nastiness.
My husband and L at lunch in Paris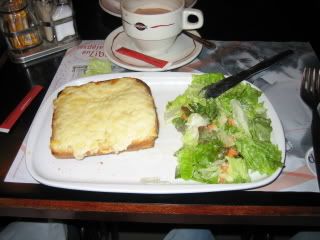 My lunch — a Croque Monsieur and a salad.
Then we abandoned the bus for the Metro and headed to my favorite place — Monmartye. Here is a shot of L and my husband in front of the Basilique de Sacre Coeur.
We sat in a little outdoor cafe and had wine, mine was mulled and deliciously warmed, while L….
… had her portrait done by one of the many artists in the square.
God, we were tourists from Hell. It was great.
Then we hopped the Talys again…..
…missing la Greve (a strike) by the train workers by mere hours. Since we were so close to strike time, the train was slower (on purpose, so the workers could make their point) and they kept flicking the lights off.
We got back to Brussles at almost midnight totally exhausted from over 13 hours on foot in Paris, but my mother-in-law (who picked us up from the train station) insisted on buying us a beer at a pub in the Grand Place.
"Please, the beer is wonderful, but we want to sleeeeeep!!"