July 5th, 2007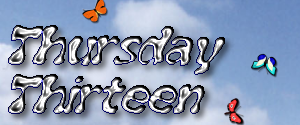 Thirteen CDs I Can Listen to All the Way Through (without skipping any tracks)
It's rare to find a CD that you can listen through from beginning to end without running to the stereo to press "skip". I managed to think of thirteen.
1. Sting — Nothing Like the Sun
2. Liz Phair — Whitechocolatespaceegg
3. Aqualung — Strange and Beautiful
4. Galactic — Coolin' Off
5. Velvet Revolver — Contraband
6. The soundtrack to Singles
7. Mary Chapin Carpenter — Partydoll and other favorites
8. U2 — Rattle & Hum
9. Wolfstone — The Half Tail
10. Elizabeth Mitchell — You Are My Little Bird (This is actually kid's music, but she does it in a way that appeals to adults too.)
11. Evanescence — Fallen
12. Maroon 5 — Songs About Jane
13. Pearl Jam — TenLinks to other Thursday Thirteens!
1. Rhian
4. Tink
7. Sparky Duck
8. N.J. Walters
9. tvaddictgurl
10. Ann
11. Marissa
12. Lauren Dane
14. Lisa Andel
15. spyscribbler
Get the Thursday Thirteen code here!The purpose of the meme is to get to know everyone who participates a little bit better every Thursday. Visiting fellow Thirteeners is encouraged! If you participate, leave the link to your Thirteen in others comments. It's easy, and fun! Be sure to update your Thirteen with links that are left for you, as well! I will link to everyone who participates and leaves a link to their 13 things. Trackbacks, pings, comment links accepted!