July 12th, 2007
I am TTless today. Have writing to do, and the shlepping of people to various places, and errands to run and other what not. Oh, and writing! Whee! Progress is going fine on The Darkest Kiss, I'm pleased to report.
I do have print book news, however. And Lady Makes Three, the anthology I did with Nikki Soarde and Ashley Ladd, sold out of its print run and had been out of stock for quite some time. Ellora's Cave has reprinted it and given it a puuuurdy new cover.
Yummy! I like this cover better because the last cover was a bit too contemporary to be representative of my story, (the woman was wearing sunglasses). My contribution to the anthology is a novella titled Twilight, and it's an historical fantasy romance.
The dark, the light, and one to merge them.
Nico and Dai have searched for years for the third member of their Sacred Triad. Their combined energy, released in a sexual ritual, will drag their reality back from the Encroaching Darkness, a mystical force that threatens their world.
But Twyla has been emotionally damaged by an event in her past and has lost her magick as a result. It will take all of Nico and Dai's deep love to help her overcome her fear and give her the sexual healing she so desperately needs.
~*~
Books I've read lately….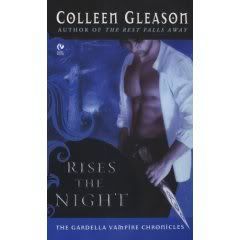 Rises the Night, bu Colleen Gleason. I love this series and eagerly gobble up every new installment. This one made me cry, though. *sniffle* I can't say why because it would be too much of a spoiler. I'm upset at Ms. Gleason for making us wait for the next book, though. I want to know what happens now. *stomps foot*
Put me in the room with the ten gajillion other people who loved Slave to Sensation, by Nalini Singh. I've got the next on order from Amazon.com. Excellent, imaginative story. Wonderfully well drawn characters. All in all and enjoyable way to spending some reading time.
I have 18 books on order right now. I'll post a picture of my incredible TBR pile once they arrive.