January 25th, 2008
I haven't been posting much lately because I'm under two deadlines that are getting a bit more pressing. That, and I've just been tired and a little overwhelmed by things in general. I saw this post that Patrice Michelle did (and before her Melissa Marr the folks at Fangs, Fur & Fey), and thought it was a cool idea.
Once upon a time I couldn't write while I listened to music. I'd get too distracted and my productivity would slow. These days I do listen to music, although it has to be down pretty low volume-wise. I even have playlists for my books on my iPod. The music helps me get into the frame of mind I need to be in to write.
So here are six songs I'd associate with Witch Blood.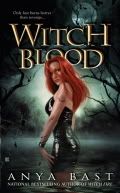 I would say more, talk about specific scenes and such…but that'd push this post into major spoiler land. *g* I could list many more than 6, btw.
1. Black Light Burns — Stop a Bullet
2. The Tea Party — Temptation
3. Moby — Evening Rain
4. Jane Siberry — It Can't Rain All the Time
5. Evanescence — My Last Breath
6. 12 Stones — Lie to Me
I posted these vids for anyone interested in hearing the songs:
[youtube:http://www.youtube.com/watch?v=CUtYQFppbSY]
Stop a Bullet
[youtube:http://www.youtube.com/watch?v=cFzQX2i6mwo]
Temptation
[youtube:http://www.youtube.com/watch?v=327gNA2VUsY]
Evening Rain
[youtube:http://www.youtube.com/watch?v=aNOMQwTdmto&feature=related]
It Can't Rain All the Time. (Best known from the soundtrack of the movie The Crow)
[youtube:http://www.youtube.com/watch?v=juCt-yJPbvg]
My Last Breath
[youtube:http://www.youtube.com/watch?v=SalTo8lqres&feature=related]
Lie to Me