February 27th, 2008
I'm peeking my head up from Deadline Hell to talk a little bit about some recent books I've had in my TBR pile. I feel like I've been talking about Witch Blood non-stop. Oy. It's time to talk about other people's books for a change.
Meet Sirantha Jax, a woman with the rare ability to "jump" ships through Grimspace. Unfortunately this little skill just might get her killed. This is a gritty story, laced with action, adventure and a little bit of romance. It's one of those books that make you stay up waaaaaay too late so you can finish it. Jax is complicated and layered, emotional and snarky as all hell.
I loved this book and Jax too!
Isn't that a fantastic cover? Christine Clavel is just an astounding cover artist. *sigh*
Okay, now for something completely different. This is A Spell for Susannah, a fantasy romance from Samhain Publishing. I pronounce it SOW-WAYNE, how do you pronounce it? Now, make no mistake, the author is a friend of mine. In fact, I critiqued this book a long time ago when it had a different title. I also love this author's writing regardless of our friendship. Jody Wallace is a skilled, polished and very talented writer.
Meet Susannah in this twist on the tale of the twelve dancing princesses. She's discovered a secret castle filled to the brim with dancing princes. In a kingdom where the nobles have been cursed to only bear female children, this is quite a surprise. She and her sisters enjoy this delicious secret to the fullest up until Susannah's parents hire Jon Tom, a detective, to unravel Susannah's wily ways and discover what their offspring have been up to.
I'm liking this new Nocture line. One of the books I've picked up is Scions Resurrection, by Patrice Michelle. I know Patrice's books from Ellora's Cave. They're hot and have a lot of heart. They're action-packed and written in a way that allows you to clearly see the plot unfold in your mind's eye–kind of like a movie in your head. Scions Resurrection is no exception.
Ariel, the heroine, is an author of vampire fiction. Too bad vampires are real and it's caused their eye to be drawn to her…. I found this to be a wonderful and engaging book that let me slip into its world for a time.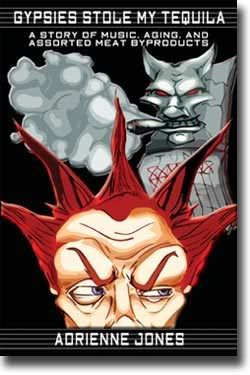 And another about face. This one's horroresque. I've been a fan of Adrienne Jones for a while. The Hoax was awesome. Gyspies is irreverent and humorous, the story of Joe, an aging punk rocker, who has a time demon living in a calendar on his wall. The demon is pressing him to honor a suicide pact he made with his former bandmates. They're all supposed to kill themselves on their fortieth birthday. In order to save his life, Joe is going to have to face something even more horrifying than the demon in the calendar…himself.
I read this book in one afternoon. Joe caught me up from page one and didn't let me go. Definitely a great way to spend some reading time.
Here, have some genre whiplash.
At least this cover is better than the one on my version, which is really, reeeeaaaaallllly clinchly. The title too. Oy. Lord of Scoundrels. But I'm telling you that this is one of the best romances I've ever read. It's a classic of the genre and I'd heard of it so often and in such glowing terms that I finally bought it, even though I'm not a big reader of non-paranormal fiction.
Oh. My. God. All the praise? Totally warranted.
This book is a twist on the tale of the beauty and the beast. The characters just fly off the page and I completely want the heroine to be my best friend. She rocks like crazy. If you love romance, (I don't care what your preferred sub-genre may be), read this book.
Okay, here's the contest (one of a couple I'll be running here within the week). What have you read lately or what are you planning to read? Just talk about your current reading/TRB list a bit and you'll be entered in a contest to win your choice of one of the above novels. This contest/blog will be posted a couple different places and all entrants will be compiled for the drawing. Contest ends on Wednesday, March 5th.
Sound cool? Fire away.