March 4th, 2008
Well, officially, anyway. I've had reports of people finding in bookstores over the last week. But today you should be guaranteed to find it on your local bookstore shelves. To answer a question I've been fielding often recently — YES, Witch Blood is a stand alone title. You'd probably get more out of it having read Witch Fire first, but it's really not necessary. I'm writing all the books in this series to stand alone. 🙂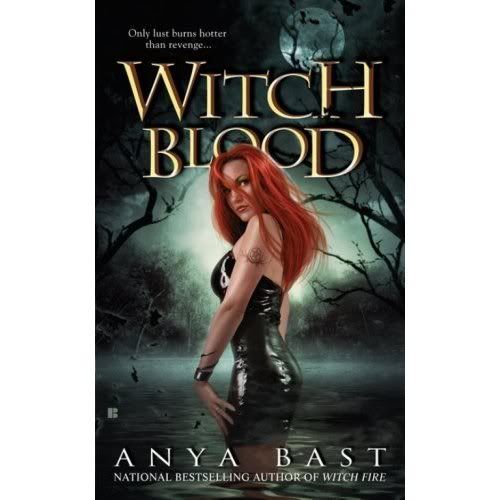 A water witch, Isabelle Novak has always led a chaotic, nomadic existence. But her life spins out of control when her sister—her only friend and emotional anchor—is killed by a demon. Driven by grief and a desire for revenge, she turns her back on the Coven and the rede they hold sacred: Harm thee none…
When Isabelle first encounters Thomas Monahan, she's running on pure rage and sorrow, channeling her pain into power—and trying to freeze the life out of a warlock she holds responsible for her sister's death. Together, they form an uneasy alliance to hunt and destroy a demon of tremendous power. As head of the Coven, earth witch Thomas must thwart Isabelle's dark impulses, but his very presence stirs deeper desires she never knew she had…
The first chapter, book trailer, and online buy links can be found on my web site here.
"Any paranormal fan will be guaranteed a Top Pick read. Anya has provided it all in this hot new paranormal series. You get great suspense, vivid characters and a world that just pops off the pages. This book is not too be missed." — Night Owl Romance Reviews
"Gritty danger and red-hot sensuality make this book and series smoking!" — Romantic Times Bookreviews — Four Stars
"Lovers of magic and paranormal romances will doubtless find themselves enraptured by the gripping plot and intense sensuality of Witch Blood. Be prepared to read it straight through, because you will not be putting this book down once you begin reading it!" — ck2skwipsandkritiques — Five Clovers

Contest!
To celebrate the release of Witch Blood, I'm holding a contest for a gift basket filled of yummy chocolate and bath goodies! The contest ends on Wednesday March 12, so enter quick!
The basket includes:
• 4 pc Signature Truffles (Assorted milk and dark truffles)
• Milk Chocolate Hot Cocoa (4 servings, 1.1 oz.)
• 4pc Gold Ballotin (Assorted milk, dark and white chocolates)
• Signature Biscuits (4 biscuits with milk chocolate 1.2 oz.)
• Assorted white, dark and milk chocolates
• Chocoiste Milk Chocolate Strawberries (Sweet, dried strawberries covered in milk chocolate, 2 oz.)
• Chocoiste Dark Chocolate Caramel Bar (1.5 oz.)
Go read the first chapter of Witch Blood and send the answers to the following three questions to anyabast(at)yahoo.com. Don't post the answers here please! Put WITCH BLOOD CONTEST in the subject line so your entry doesn't get lost. One winner will be selected and notified on March 12th.
1.) What two things has Stefan done to keep the public from getting too close to him?
2.) What has been Isabelle planning for months?
3.) What two foreign languages does Isabelle speak fluently?
Don't forget — I'll be chatting about Witch Blood on Wednesday at 9 pm ET in the Writerspace Readers Chat Room.