March 31st, 2008
First off, here are some pictures from the book signing I did Saturday with Debby Giusti and Marjorie Liu.
Here is Debby, Anya, and Marjorie.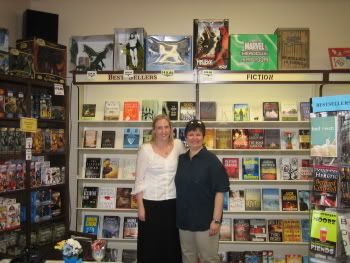 Anya & the wonderful bookstoredeb of The Bookstore in Radcliff, KY.
Laurak was there! So was Rhonda! I forgot to have pictures taken with them yet again, though. I fail at photos.
~*~
Goodbye cube farm! Fare thee well…
So, yep, I quit my day job. There are some who would advise me against such a move, I know. Yet, I've done it. I'm out. After twelve years of breathing the allergen-laden air of my office building, I finally gave my notice.
I am OUT of there. Hoo, boy. Oh yeah. Freedom!
As of next week I will trade my life of paper pushing for one of full-time writing and stay-at-home momming. And although I just cried freedom, it's a little scary too. For many years I worked full time, only going part time a couple years ago when my writing income began to be enough to pick up the slack of a loss of twenty hours a week. I went part time to have more time to write and also in anticipation of motherhood.
I liked being part time because it allowed me a foot in steadier waters while giving me time for other things. Writing is anything but predictable work. Most writers don't make enough to support themselves and need to keep their day jobs, or they need to keep day jobs because they don't have a spouse who can support them. I do have a spouse to support me, but in my case I just never wanted him to do it. I wanted to bring in enough income to support myself as if I were not married. So I kept my day job long after I could have quit. It took me a long, long time to pry my fingers off it even though a part of me really did want to leave. Those closest to me watched me seesaw back and forth between TO QUIT! or NOT TO QUIT! Yes, that was the question.
A perfect storm of events finally pried my strong grip off the job. A combination of wanting to spend more time with my daughter, events within the company, and my writing career taking off a bit (yay!). But I will miss the days it got me out of the house. I'll miss doing something in which I can see immediate, practical results. I'll miss some of the people in my office. I'll even miss some of the work. But there are lots of things I won't miss, too. So….
Goodbye long commute! Goodbye nasty grounds in the coffee! Goodbye small gray square of a cubicle. Goodbye bland carpet-covered walls. Goodbye uncomfortable office chair. Goodbye air duct right over my head that had me in sweaters at the height of July.
Goodbye! Goodbye!