April 9th, 2008
Okay, hold on…I've got lots to say.
It's almost RT time!! Because of RT and because I'm soon to have house guests, I've been madly preparing…and not blogging. Maybe you have noticed the not-blogging part. I apologize, if so. Will you be RT? Say hi, okay? I'm super friendly, so don't be shy. I will have my camera with me at RT and will try to blog from there. Sometimes I can manage this, sometimes not. I'll certainly try, though!
Live in PA? I'll be participating in a booksigning with Megan Hart and Lauren Dane on Monday April 14 from 6 – 8 pm at the Borders/Waldenbooks at the Lebanon Valley Mall in Lebanon Pennsylvania. I hope to see you there!
Witch Blood received a Top Pick review from Romance Reader at Heart!
Shannon says in part, "I love WITCH BLOOD! With its fantastic characters, complex plot and super hot scenes, this is most certainly a slam dunk Top Pick. Great writing, sci-fi scenery, witchery, crazed demons and so much more, WITCH BLOOD is a read that I cannot stop thinking about. I enjoyed every minute of it…. WITCH BLOOD is a read you do NOT want to miss."

Thank you, Shannon!
~*~
A New Release…..
Magical Seduction, an anthology with stories from Mandy Roth, Cathryn Fox and me is now shipping from online retailers. It should be stocked on your local bookshelves next week. I admire these authors so much and I'm totally thrilled to be in this anthology with them both!
Witches, werewolves, things that bump in the night…And three arousing tales of sexual delight.
CATHRYN FOX
Web of Desire
Good witch Ally gets naughty when she discovers her long-lost high school sweetheart caught — literally — in a web of lust and seduction.
MANDY M. ROTH
Solo Tu
When Francy shows up after five years of separation to tell her beloved Dante, a werewolf, that she's engaged to a vampire, he seduces her with a steamy surprise of his own.
ANYA BAST
Tempted by Two
Not only did Miranda just learn that she's a half-blood fae, but she's also got two — two! — deliciously muscular mates. She'd better adjust to all the sexy attention before a vengeful goblin tries to get in on the threesome….
You can order this title from Amazon.com or any other online retailer.
~*~
A Contest!
To celebrate the upcoming release of What Happens in Vegas…. (May 1st, 2008), I want to give away an ARC! Have you taken a trip to Vegas? If so, tell me about it in the comments. What was your impression of the city? if you haven't been to Vegas, tell me about another thrilling place you've visited. When I return from RT, I'll draw a name and announce a winner.
Good luck!!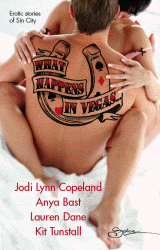 Behind closed doors, the real games begin…
Winning it big.
That's the name of the game at Las Vegas's Liege Hotel and Casino, where the hottest fantasies hinge on a roll of the dice…and the tantalizing knowledge that anything could happen before sunrise.
Cocktail waitress Carinna wants a man to tie her up, not tie her down. Little does she know that her most willing partner yet has something else planned for this fiery Latina bombshell.
Dahlia is a burlesque dancer with a brain for business and a bod for sin. Her latest admirer may be a sweet-talking Casanova, but despite what he thinks she's not giving anything away free.
Meanwhile, Amy has the perfect plan to rob the Liege Casino blind…until the intimidating owner catches her red-handed. Now she knows she's going to pay… with both pleasure and pain.
Professional shill Cassidy is ready to experience a breathless rendezvous with her "friend with benefits." But when he proposes five delicious nights of sexy blackjack, the stakes have never been so high.