May 6th, 2008
Erin McCarthy, Tate Hallaway, Michele Bardsley and I have joined in a blogathon of contesty goodness! Travel to each of our blogs and read the questions posed to each other and our answers. Leave a comment and be entered in a contest to win four different prizes (check each blog to see what the particular prize is).
Michele Bardsley
Tate Hallaway
Erin McCarthy
Here's my question and all the answers:
You have a couple weeks and unlimited funds and can take one of your characters anywhere in the world on vacation. Which character do you take, where, and why?
Erin — Corbin Atelier from BLED DRY to Paris. He is a French vampire stuck in Vegas and if he could get back to France, he would be a fantastique tour guide, ma cherie.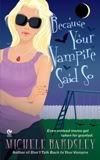 Michele — Um. Hmm. Oh, what the hell! I'd take the triplets with me, the lycanthrope princes Damian, Darrius, and Drake. Then I would have hot men waiting on me hand and foot … and you know, other places. I'm not sure it would matter where we went because who needs scenery when you have them? Heh. No, really. Someplace tropical. Then they could wander around mostly naked.
Tate — I would take William to Tibet to see the Dali Lama. For people unfamiliar with my books, William works with Garnet (my witch heroine) in an occult bookstore in Madison, Wisconsin. At least once — sometimes twice — every novel, he changes his religious persuasion. I think he'd love seeing the Dali Lama, plus he seems like the kind of guy who would be fun to travel with as long as you were willing to go off on tangents and not be very rigid about scheduling, you know?
Anya — I would take Thomas Monahan from Witch Blood to tour Europe with me. He would enjoy visiting all the museums and would love to try all the different foods and wines of each country. We'd wander the Cinque Terre in Italy, visit the chateaux in France's Loire Valley, and round out the trip with a visit to the Rijksmuseum in Amsterdam. Thomas would be an interesting companion and the guy needs a vacation in the worst way. I probably wouldn't be able to get him to loosen up until we got around to visiting the South of France, though (the wine would do it).
So, dear readers, if you had couple weeks and unlimited funds and could take any characters from any books anywhere in the world on vacation. Which character would you take, where, and why?
My prize is a $10 GC to Borders Books & Music plus a signed copy of Magical Seduction or What Happens in Vegas, winner's choice. Worth playing for? (I don't EVER watch Survivor, swear!) Then leave a comment today or tomorrow for a chance to win. Don't forget to visit Erin, Tate and Michele's blogs for more shots at great prizes.