September 11th, 2008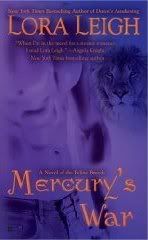 Nothing matches Lora Leigh's latest entry in the series about genetically altered Breeds with feline DNA—and the humans who awaken their desire.
Someone has been slipping the Sanctuary's secure information to a pharmaceutical company. Now it's up to Ria Rodriguez to pose as a clerk and uncover the leak. Yet she has no idea of the danger she's about to encounter—or the passion she's about to ignite in one of the greatest Breeds ever created.
Want a chance to win this book? Comment and answer the question below.** I'll draw a winner tomorrow morning. One entry per person, please. FYI — This book doesn't release until October 7th, so I'll get it to you once I have it.
You have just been visited by Seymour, the magical wish-giving chipmunk. (I couldn't find a good picture of a chipmunk, so just imagine one. Work with me, people.) What three things do you wish for?
No wishing for more wishes! Oh, and Christian Bale is mine, so back off!

THIS CONTEST IS NOW CLOSED
* I reserve the right to delete any answers I deem creepy. My blog is a no creepy zone.