September 12th, 2008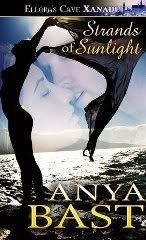 Rhiannon always thought she was just a low born peasant. When a mysterious lord buys her contract of servitude and brings her back to his keep, she finds out she's actually the bastard daughter of a great lady. She also discovers she's prophesied to kill the man responsible for her mother's undoing.
And prophesied to die while doing it.
At the keep, Rhiannon is caught between two men: Tristan, the severe and sometimes brutal lord who introduces her to erotic bliss and binds her there, helplessly addicted to his every whim. And Gareth, the shining, handsome knight who treats her like the lady she never knew she was. In competition, Tristan and Gareth tempt her with physical pleasure beyond her imagination. Both of them stake a claim on her body, but only one of them will win her heart.
But once the prophecy begins to unfold neither Gareth nor Tristan will be able to save her…

This book releases TODAY from Ellora's Cave and is an eBook.
Want a chance to win it? Comment and answer the question below. I'll draw a winner tomorrow morning. One entry per person, please.
Describe yourself in one sentence.
My answer: I am an intuitive, creative, compassionate, busy recluse who loves animals and has occasional episodes of airheadedness and acute obliviousness.
THIS CONTEST IS NOW CLOSED