September 23rd, 2008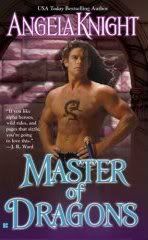 Master of Dragons, by Angela Knight
Book 8 in the Mageverse series
The last time fairy princess Nineva Morrow engaged in magic, evil forces rendered her an orphan–isolated and incapable of trusting in anyone's survival. But after years of hiding on Earth, she'll use her powers once more–and attract more knights than she can handle.
Want a chance to win it? Comment and answer the question below. I'll draw a winner tomorrow morning. One entry per person, please.
If you had to emigrate from your current country, couldn't live there anymore at all, where in the world would you choose to go?
My answer: That one's easy, we'd move to Belgium because that's where my husband's family lives.

THIS CONTEST IS NOW OVER