March 18th, 2009
Hoooooly hotness. I want this guy for Christmas. My husband wouldn't mind, right?
This is the cover for the late September, 2009 release of Hot for the Holidays. My story is titled Sweet Enchantment and will kick off (though will be a stand alone) a new series I'm writing for Berkley Sensation.
As soon as I get Wicked Enchantment sent in to my editor (I'm soooooo close), I'll talk a little more about this new series. Right now I feel like I'd be jinxing myself. Who, me? Superstitious? Yeah, a little bit.
Also…it's almost May, which means it's almost time for the release of this book. I have an idea brewing in my head for a BIG contest, something along the lines of the month long affair that I did for The Chosen Sin. My idea is still unformed at the moment, but I need to form it quick 'cause time's a-wasting.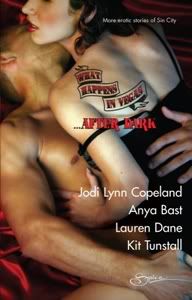 Tell me, please. What sort of contests do you like best? What kind of prizes do you like the best? Books, of course, I'm sure. How about GCs? To bookstores or another type of store? An iPod Touch? An ebook reader? I dunno…give me a place to start. I think my brain is deadline-fried at the moment.