April 8th, 2009
***************** THIS CONTEST IS NOW CLOSED**************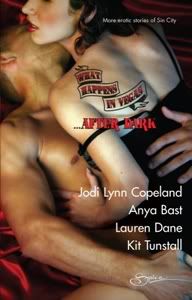 Grand Prize: $100 GC to Amazon.com
Runner Up: $25 GC to B&N and a box of surprise paperbacks and other goodies (like chocolate, bath goodies, ect). This is going to be a NICE prize!
Runner Up: $25 GC to B&N and a box of surprise paperbacks and other goodies. (same as above)

Plus chances to win books (almost) every day for a month!
Go to http://www.anyabast.com/blog/ for details on how to enter.
~*~*~*~
Welcome to the Ginormous Vegas II Celebration Contest!
I'm holding a month long celebratory contest leading up to the release of What Happens in Vegas…After Dark, which comes out on May 1st.
What Happens in Vegas…After Dark is the paranormal follow-up to What Happens in Vegas…. an anthology of contemporary stories that released last spring.
There are two parts to this contest. Below are the details for each.
The MAIN contest, (for the big prizes above)
You can enter two ways.

a.) Announce the contest and lead others here by posting the cover and the information below it (everything above the ~*~*~*~) to your blog, website, Facebook or Myspace. Wherever you have permission to post it. After you've done that, post the link to your announcement in the comments TO THIS POST and you're entered!
b.) If you don't have a blog or anywhere to post the announcement, tell at least one other person you think might be interested about the contest. Then come back here and post in the comments TO THIS POST that you did so, and you're entered!
The DAILY contests
(Almost) every day there will be a giveaway for a different book. Individual authors whom I have recruited to participate in the giveaways will be offering these, so they will all be autographed! Check the blog every day for a new chance to win. You'll have about 24 hours to enter each contest by answering the question posed for that day.
Black out days: There will be no book giveaways on Sundays. Also, I will be attending the Romantic Times Convention (RT) in the middle of the contest. Right before RT starts, I'll be at Disney with my family. When I'm Disney, the daily contest will take a hiatus, but will start back up when I get to the RT Con hotel. Clear as mud, huh? Don't worry, I'll let you know when the daily contests pause and resume as we're going along.
The daily contests start tomorrow.
An added bonus
I have twenty three bajillion ARCs of What Happens in Vegas…After Dark. I'll be giving some of these away randomly throughout the month but you'll never know when. So some days you'll have TWO chances to win.
Rules
1.) Over eighteen only. What Happens in Vegas…After Dark is EROTIC, peoples. That means no one under the age of 18 is allowed to play. Sorry! Come back after you've reached the age of majority.
2.) Don't post the announcement/cover anywhere you don't have permission.
3.) Non-US entrants for main contest: Folks outside the U.S. are allowed to enter the main contest, but it will be tricky if you win. We'll have to decide on how to handle the prize, since it's not possible for me to buy GCs to bookstores outside the U.S. We'll have to decide between us an equivalent prize. But go ahead and enter. If you win, we'll figure it out.
4.) Non-US entrants for daily contests: I will let you know on a daily basis whether or not the daily book prize contests are open to non-US peeps. I left that up to each individual author, since they're the ones sending the books out.
5.) Sock-puppets and creepiness: I reserve the right to delete any comment that is a shady duplicate from one person trying to enter multiple times. I can see you!!! I know who you are!!! There's this cool thing called an IP address, so I can easily weed out the sock puppets. I also reserve the right to immediately delete any comment that I deem creepy or abusive.
6.) How the winners are chosen: All winners are chosen at random by number by my husband. It is possible for one person to win more than once. That's the nature of randomness. Sometimes it's just dumb luck your number is chosen more than once.
7.) Authors can enter: Authors are readers too and are more than welcome to try for prizes.


I think that's it! This post will remain sticky at the top of the blog throughout the duration of the contest for the main contest, so scroll down for the daily book giveaways. Have fun!
EDITED TO ADD:
Allison at Allison's Reads was sweet enough to create and share this Sprout widget for the contest. If you'd like to use this, you're more than welcome. Thank you, Allison!!