May 12th, 2009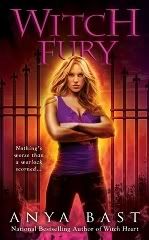 I can't believe it's almost here, the final book of the Elemental Witches series. Witch Fury will release on June 2nd, just three weeks from today.
If you've been reading the series, you're familiar with Theodosius Winters from a short appearance in Witch Blood and a secondary role in Witch Heart. As readers know, Theo is very much in need of love. He's the kind of hero I love to write–dark, brooding, a bit dangerous, and just a little bit damaged. It's the kind of damage that only true love can heal.
His childhood was rocky and, then, when he was teen Theo was kidnapped by the Duskoff, along with someone very important to him. Coveting his powerful earth magick, the Duskoff tried to break Theo to their will, but failed. In the process Theo had to watch the murder of the one person in the world he loved. That's bound to push just about anyone into a world of darkness, huh? As an adult, Theo works for the Chicago Coven and his favorite job is making the Duskoff pay every chance he gets.
Enter Sarafina Connell. Outgoing, vivacious, and with a million friends, Sarafina is Theo's opposite in just about every way. She's also had trauma in her life, but with the support of those who love her, she's weathered the storm much more successfully than loner Theo.
Unfortunately, when she comes home one day to find Stefan Faucheux in her living room, she's in for a whole new trauma. Stefan nabs her and forces her accept a truth she wants no part of–she's a fire witch. World turned on end and reality a jumbled mess, the Chicago Coven raids the house where she's being kept and Theo assumes she's a warlock–his least favorite thing in the world.
So, you see, they have a few things to overcome.
And the barriers to their relationship are only part of the problem. The Duskoff is back and deadlier than ever. This time they intend to use every resource they have to take down the Chicago Coven for once and for all.
I'm a bit sad to see the end of the Elemental Witches series, but also excited about things to come. I have a new series starting, which will be launched with the novella, Sweet Enchantment, in the Hot for the Holidays anthology that comes out in late September, which also features novellas by Lora Leigh, Angela Knight and Allyson James. Then the first full length novel of the series, Wicked Enchantment, will release in January, 2010. It's a whole new world and new characters for me to discover and I love that. I hope you will too!
If you want to read the first chapter of Witch Fury, or see the book video, they're right here.